Exceptional trips for exceptional clients. The organisation and service are exemplary and the professionals are rigorously selected to offer you the best of the services proposed. An approach built on a lasting relationship and on the pleasure of being together in the most beautiful places in the world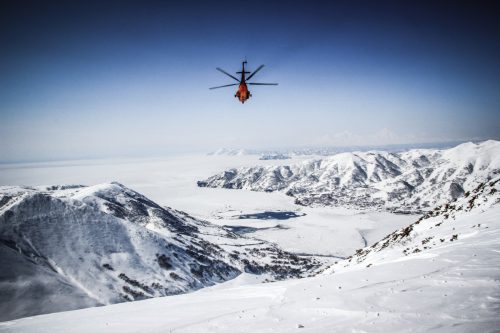 View of the Black Sea... The Swiss organisation and the helicopters managed by Air Zermatt offer the best possible service. The precipitation is regular throughout the winter and the snow quality and stability is excellent. Thanks to its outstanding team of guides, it is the most efficient and safest heli-skiing base in the world. Great powder skiing is on the cards, right next to Europe.
On the shores of the North Pacific, south of the Bering Strait, between fjords, active volcanoes and hot springs, you will leave your mark in landscapes where man is only passing through. This Russian peninsula, classified as a UNESCO World Heritage Site, is home to some of the wildest and most unspoilt spaces on our planet. A breathtaking journey engraved forever in your memory...
On the biggest glaciers in the world... Along with Kamchatka and Patagonia, this is the most exotic place on the planet for heliskiing. Downhill runs to the sea, untouched spaces as far as the eye can see: wild skiing takes on its full meaning on this spectacularly beautiful island.
When luxury meets the far north... You will embark on an 80-metre mega-yacht, the "LEGEND", to experience an extraordinary journey. On board this icebreaker, the service will be provided as in a Palace: 24 people at your disposal to bring you the best as you conceive it at the time you want it. You will sail through the fjords between the icebergs of the Disko Bay area. A mythical experience like you can't imagine.